Are you ready to dust off that beautiful diamond of
yours and finally be seen for who you really are?
You can be, do and have what you really want. It is
simply a DECISION to be the change you want to see in
the world. Having a BIG mission in life is all about living
life as the authentic you. And, to live as the authentic
you, you have to take action in that direction.
I talk a lot about Freedom, Fun and Fulfillment in our
lives. So what is that for you?
The 7th step to achieve what you want out of life is
DECISION. And the way you decide is really quite
simple. You create a vision of what freedom, fun and
fulfillment looks like for you and then you take action
based on that vision.
Here's a story to illustrate:
Three frogs are sitting on a log. Two of the frogs decide
to jump off the log… How many frogs are left on the
log?
Answer: Three
You haven't really decided UNTIL you take action!
Those frogs simply decided to jump … they didn't back
the decision with action.
I find about 50 percent of my clients have some idea of
what they want while the other 50 percent are unclear.
All of my clients gain greater clarity as they
embark on their dream building journey but the key is
simply to make a DECISION for your dream and get
started being the person who IS already living
your vision.
So the first question to ask yourself is "what can I do
today to decide for my dream of freedom, fun, and
fulfillment?"
Whether you are a part of the 50 percent that does
know their vision or in the 50 percent that does not, it
doesn't matter. You can start by looking at this simple
exercise of describing what Freedom, Fun, and
Fulfillment would look like in your life. I'm going to give
you some examples of what I mean to get
you started thinking… so here goes:
Freedom
"What I do and say matters"
"I express who I am even when others may disagree"
"I am at peace with how I live my life"
Fun
"I take the time each day to do something fun just for me."
"I laugh with my ________(spouse, family and friends) often."
"I appreciate the beauty of life"
Fulfillment
"I love my life!"
"I get to live my life purpose every day in some way."
"I am so happy and grateful that I am serving others in great ways."
That's just a few examples for you to use and explore as
you decide for your life of freedom, fun and
fulfillment.
The most important point is to DECIDE to get out of life
what truly brings you joy by taking action in that
direction. The steps to achievement mean nothing IF
you fail to decide for what you want by moving forward.
So decide today what is your next step to take! In other
words, "Just BE it and DO it!"
Want more clarity? Visit About Crystal and explore my
Programs that will help you to take the step that is
yours to take today!
Truly decide for the freedom, fun, and
fulfillment that is yours to have today!
Love and Success,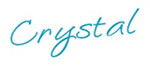 Crystal Davis is founder of Crystal Clear Solutions, a company devoted to teaching and coaching professionals around the world how to engage their passion, cast their vision, and live a fulfilling life. Through her workshops, courses, programs, and products, Crystal shows professionals how to express themselves fully in their careers and build the life of their dreams.