I used to get so mad when people would say to me "Just Be Positive" or some similar thing.What if you don't feel like being positive? Then what?My heart goes out to those of you that are stuck in this trap. Feeling bad because you just can't seem to be positive no matter how hard you try!

Sound familiar?

Most of you know my personal story of leaving my 6 figure job to pursue my passions and falling flat on my face one time after another until I learned what to do differently. Eventually, overcoming those nasty little inside voices inside of my head that said things like, "Who are YOU to do that?"

Underneath it all was something even deeper. I felt the frustration of doing what all the experts told me to do YET still falling flat on my face time after time. I was blocked by deep unconscious beliefs.

You simply haven't lived until you fall flat on your face and don't know what to do next. I didn't know if I would survive much less succeed. When you are STUCK in Confusion, Overwhelm, Disappointment, Frustration, Anger, Guilt—YUCK!

There is a simpler way out of the trap that you feel yourself stuck in… 

Whatever challenges you're going through to build your dream, whatever obstacles you're dealing with that feel overwhelming or insurmountable, whatever people you're dealing with that are pushing your buttons in every way you can imagine, please know…

You're not alone.

Life can often feel like a roller coaster ride that never seems to end (ESPECIALLY when going for your highest Vision), but I have found ways to make that up and down ride smoother (much smoother, in fact). One of the most powerful techniques I've ever found is featured in a video I want to share with you today by NY Times bestselling author Nick Ortner.    

In this video, Nick will not only show you step-by-step how to do this technique, known as EFT Tapping, but he'll also take you through a process that will have you instantly feeling better.  

This video is powerful.  Make sure to watch it!!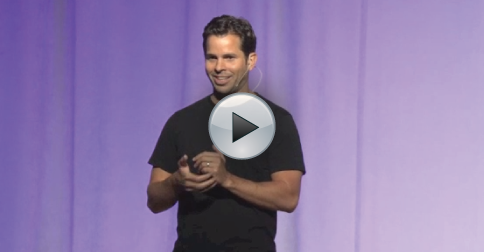 Beyond just learning this technique and going through the powerful process, look out for the information that he shares about why our brains are naturally wired for negative thinking and how you can overcome the effects of this ancient part of your brain.
The information he shares there is pretty enlightening, and just hearing it alone will likely help you eliminate some of the pressure you may be putting on yourself about not being positive enough, or about not being as healthy, successful or happy as you want to be.
One thing I can promise you is that after you watch this video and go through the simple process with Nick…You WILL feel better!  It's as simple as that.  

Enjoy the video:
http://thetappingsolution.com/cmd.php?Clk=5381826
Love and Success,
~Crystal
P.S. – Nick is releasing this video as part of the lead up to his 7th Annual Tapping World Summit, starting on February 23rd.  This event has been attended by over 1 million people over the last 6 years.  It is a truly life-transforming event that you don't want to miss out on.
Crystal Davis is founder of Crystal Clear Solutions, a company devoted to teaching and coaching professionals around the world how to engage their passion, cast their vision, and live a fulfilling life. Through her workshops, courses, programs, and products, Crystal shows professionals how to express themselves fully in their careers and build the life of their dreams.