While success is not a mystery, if one of the essential ingredients you need is missing, you can end up frustrated and getting no where—fast—wasting time, money, energy, and your peace of mind.
Instead it's important to follow a step-by-step system… where you can create the Vision of what you really want AND get it!
There are lots of people who will tell you to take action toward your dream. Quite frankly, that's not nearly enough. You've likely read, Stephen Covey's classic, The 7 Habits of Highly Effective People. In the book, Covey talks about how you can have your head down "taking the right action but be entirely in the wrong forest".
That was me… After leaping courageously from my 6 figure govt job, I found that all the action I was taking simply wasn't working. I would learn that I was missing more than one of the essential pieces to creating the business that I really wanted. I fell hard as a result—bankruptcy, foreclosure, and one business struggle after another!
You see, all the action won't matter if you are focused in the wrong place. That's where Vision comes in. Vision is the very Crystal Clear picture of what you really want. Your business and life success depends upon it! That's creating a Crystal Clear Vision and then living from that Vision each and every day. I know, that's easier said than done.
That's why, I have a special offer for you: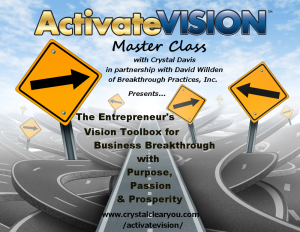 This master class is unlike any that I've ever offered! While it is part of my larger 12-month program, I've decided to give this one-time only opportunity to work with me and David Willden, who will bring you both the success mindset and business structure you need to achieve business breakthrough.
Don't delay—this low-cost opportunity with over $1,500 in SPECIAL BONUSES will not last long!
Learn more and register here:
The Entrepreneur's Vision Toolbox for Business Breakthrough with Purpose, Passion, and Prosperity
Love and Success,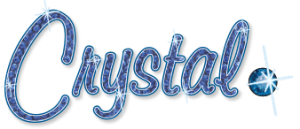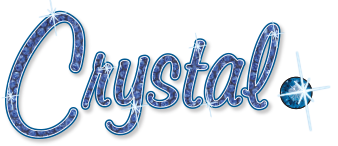 Crystal Davis is founder of Crystal Clear Solutions, a company devoted to teaching and coaching professionals around the world how to engage their passion, cast their vision, and live a fulfilling life. Through her workshops, courses, programs, and products, Crystal shows professionals how to express themselves fully in their careers and build the life of their dreams.