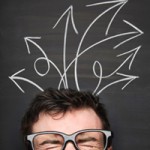 Frustrated that the law of attraction doesn't seem to be working in your favor?
You have a clear picture of what you want, have your vision board, visualize regularly, yet what you want simply is not manifesting… 
Sound familiar?
Clarity is the key to turning the law of attraction to work in your favor… and it can be easier than you think! Here are the top reasons that the law of attraction appears to not be working for you:
1. Clear Focus—Are you clear about what you really want? Or is it someone else's dream you are visualizing? Balance is also key here. The decisions you make in both your business and your life interrelate and need to be authentic for you (not your husband, your father, your mother, your kids, your boss, your colleagues, your friends, or the neighbors—YOU!) So what do you really want? The very first step is giving yourself permission to go there. I've found many of my clients to struggle with acknowledging what they really want. The #1 reason is the fear of criticism. When you've been used to putting others first for so long, it feels strange (at first) to think about what you really want! Yet, "to thine own self be true" is a must for the law of attraction to work in your favor! AND, it is ultimately what's best for everyone else too!
2. Clear Field—Do you feel good about getting what you really want? Or do you spend most of your time thinking about what you don't want and getting all caught up in the drama? Your emotional clarity needs to match your vision clarity. You can ask for what you want and visualize it night and day but if you don't feel positive about your choices and your belief in your own truth then the Universe will give you results that reflect how you really feel. It's a perfect system that reflects how you really feel—even if you aren't completely aware of what you feel! Stressful thoughts, overwhelming thoughts, confusing thoughts are the clues that spell T-R-O-U-B-L-E for your manifestation. One tip is to take deep breathes when stressful thoughts come up for you. Practicing meditation will also help you to clear your mind and gain control over your thoughts. To get outta' your own way is the challenge as to quote Les Brown, "You can't see the picture, while you are in the frame." This is where most of us hire a good coach to help us see what we can not see on our own!
3. Clear Success Strategies—Do your actions match your vision? In other words, do you act as if you already are the brilliant, gorgeous, talented, fabulously successful person that you see in your vision? This is IMPORTANT! The law of attraction and the other Universal laws of success are unchangeable! Understanding the law is understanding the law of your nature. You become what you think and feel yourself to BE. You can do all sorts of things and simply run head first out of steam when you don't know who or what you want to be! Or you can get crystal clear on who you want to BE and then DO your Vision. Who you become on the inside always manifests on the outside—ALWAYS! Therefore, the core strategy is personal growth as your business can only grow as much as you are willing to grow as a person. Many of my clients beat up on themselves for not taking action when they are not yet clear on the inside. This is the spin cycle of doing the same thing that you've always done and expecting different results. Sound familiar? That's Albert Einstein's great quote, "Insanity is doing the same thing over and over again and expecting different results. YUCK! Instead, step back, get a handle on what you really want, and BE that person.
4. Crystal Clear You—Along with being clear about what you really want, do you have a calm, confident, conviction that what you think, say and do matters? And, do you regularly celebrate your wins-both big and small? The Crystal Clear You knows what you want and goes for it with a calm, confident, conviction. Action becomes effortless from this place because the worry, doubt, and fear is gone. Yes, gone. A confident person isn't filled with fear. I've personally gone from a shy government worker that was scared to death of what others thought about me to a Visionary entrepreneur who is confident in who she is, no matter where she is. It wasn't easy—after bankruptcy, foreclosure, divorce, and one struggle after another—I transformed myself along the way. The journey to the Crystal Clear You is well worth it! And, I believe it is what we've all come for—to be real, to be authentic and unafraid to express what we want and get it! 
It all comes down to YOU. Who you are being creates more and more thoughts in the direction of your greatest dreams. You are the thinker of the thought and the director of your emotions. Learning to turn your ship is possible when you make the commitment to your dreams.
Of the 4 steps, what can you see more clearly that you need to change and based upon that clarity, what can you take action on today?
Receive my FREE audio recording "How to Stop Procrastination Once and for All!" to gain clarity on additional strategies and tools that will help you get the Law of Attraction to bring you want you really want! And, if I can help you, please e-mail me at crystal@crystalclearyou.com.
Love and Success,

Crystal Davis is founder of Crystal Clear Solutions, a company devoted to teaching and coaching professionals around the world how to engage their passion, cast their vision, and live a fulfilling life. Through her workshops, courses, programs, and products, Crystal shows professionals how to express themselves fully in their careers and build the life of their dreams.